I don't like saying these are 'must haves' because in all honesty, babies really only need food, clothing, and shelter. Still, these are products that I find pretty useful for us. We are
very
minimalistic (no crib, no stroller, etc) so I have no doubt that if I found them to help, you will too. Count on it. :)
1.
Moby Wrap
Using the Sleepy/Moby wrap on Noah, 8mo.
Both Gabe and I used this Moby wrap almost every day from Noah's birth until about 3 months when he could fit better in the Beco carrier. There are several different kinds of this wrap (I have one called the Sleepy Wrap.) but they all have the same concept. It's pretty much a long jersey material that you wrap around yourself and the baby. It takes some getting used to but once you figure it out, (Youtube videos helped a lot!) it's not so bad. The only down sides are the long length making wrapping it very tedious and that it tends to hit the ground while wrapping. I found this carrier to be the most comfortable for my bad back and really like that there are so many different ways to wrap it.
The Beco Carrier in action.
2.
Beco Baby Carrier
The Beco is very similar to an Ergo carrier. While this fits newborns, we didn't really start using it until about 3 months when Noah could wrap his legs around our body in the sitting position. We also call this Gabe's carrier because he prefers it to our other carriers (Mei Tai, Moby, and sling). I have worn it and it worked fine but it just wasn't as comfortable to me and my small body size (5' 1", 95 lbs). Noah loves the carriers and almost
always
falls asleep and does not complain to get out.
Psst, Mamaroo is off to the right too. :)
3.
Fisher Price Activity Mat
This activity mat plays music and rainforest sounds and lights up. It was great at keeping Noah's attention up until he figured out crawling. And even now at 9 months old, he found it hidden in the corner and started playing with it again. I would normally put it in storage but I have found that if I lay him on this, he will stay still long enough for me to change his diaper without having him roll over and try escaping.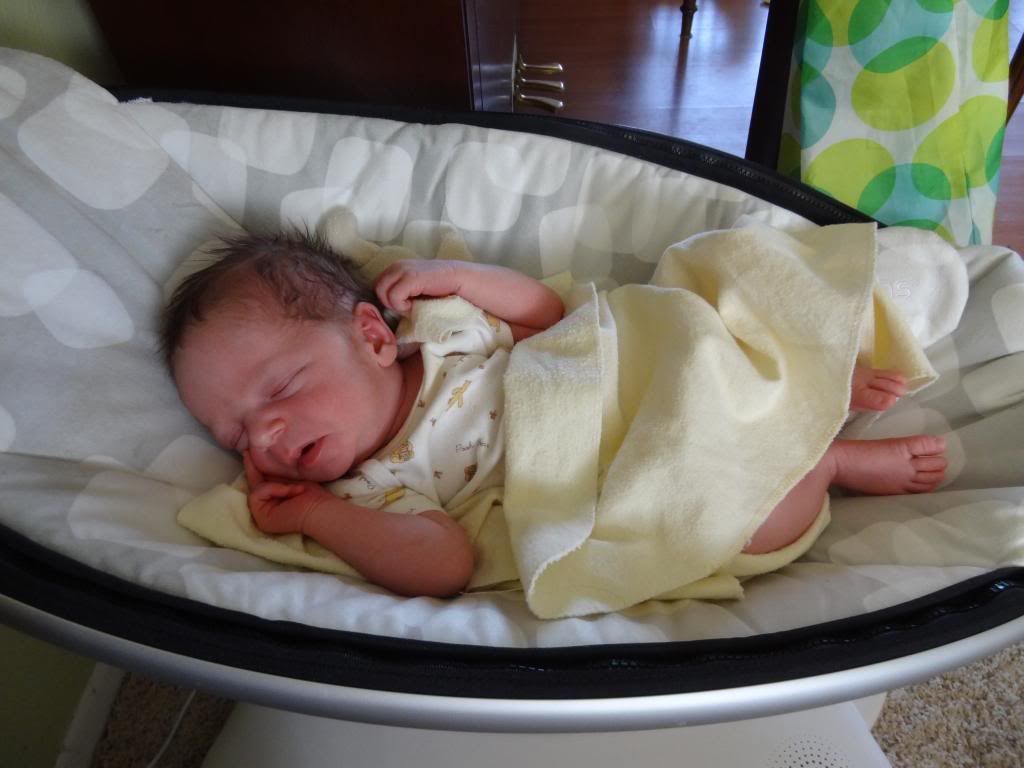 4.
4Moms Mamaroo
A swing and bouncy seat in one. I saw this five years ago when Christian was a baby and wanted one but the price was holding me back. When I was pregnant with Noah, we were given some gift cards to Babies R' Us and we used them to get this and let me tell you, it is amazing! Well worth it. It has many different motions and sounds, plus! you can plug your ipod into it and play anything you want. When Noah became mobile, I used it and still do (mostly when I really need to do something (like make dinner)) to keep him in a safe place. It's just a bonus that he falls asleep in it. :)
5.
Bumbo
Out of the seven different products on the list, this was probably used the least. Not because it wasn't useful or loved, but because babies quickly grow out of it. As soon as Noah had good head control (around 3 months), we started using it. It was a perfect place to put him when he wanted to sit up but we couldn't hold him at the moment. As soon as he started becoming mobile and more active we had to put it away because he would lean over and try to get out. When they do that, you run the risk of having it tip over and that's no good.
6.
Nursing tank tops and bras
This is pretty self explanatory but if you are breastfeeding (especially those of you who nurse 1+ year) I
highly
recommend you invest in some good quality nursing bras and tanks. I wear them every single day and have several different brands. These Le Leche League nursing tanks are my favorite and you can find them on
Zulily.com
often times. I do not like the Motherhood Maternity tank that I own as the quality is just not great.
7.
Coconut Oil
You scoff all you want but this stuff is
amazing
for so many reasons. You can't get a more natural product to use than 100% coconut oil and it's safe to use around babies. When Noah was first born he had a red bum for a couple of days and we rubbed some coconut oil on with every diaper change and it was all better within a day or two. A little of this goes a looong way. We use it on dry skin (hello soft heels!), diaper rash, burns, and any other 'ouchie'. When the kids get hurt, they run for this stuff first. If you haven't heard of all the other great benefits of coconut oil, do some research and you will find hundreds of links.