Not really but it was my birthday! I'm one of those
un
fortunate people with a birthday stuck between Christmas and New Year's. You know, the birthday where you get your present wrapped in Christmas paper or you get the "combined" Christmas/birthday gift.
Can you tell I'm not a fan of my birth date?
I've learned to live with it though and now that I'm older, it's not as bad.
(I did however, vow never to have a child in December to avoid them having the same fate.)
Anyway, I woke up like any other day with the kids coming in waking Gabe and I. We always enjoy a little family time playing and cuddling before making our way out of bed to start the day.
Gabe got out first and brought me my gift while the kids serenaded me with "Happy Birthday". They were truly adorable and wish I could have taped it to watch over and over. I had given him a list of things to get me for Christmas and my birthday and he stuck to it and I got everything I wanted!
He's been trained well.
Hah!
I received the last two seasons of The Golden Girls. Yes, I watch Golden Girls and love it.
my birthday and Christmas gifts


We have a thing in our family that on our birthday, we go out to eat and the birthday person picks the restaurant. I chose a pizza/Italian place nearby called Pizzaria Mimosa. I've heard good things about it and wanted to try it. They're set at the base of the local mountains so the views are amazing. It just so happened as we found out, that they were also celebrating their opening anniversary and each table got complimentary cupcakes! Who can say no to cupcakes much less FREE ones?!
We ordered pizzas for the kids and I chose a breaded lemon chicken while Gabe chose some kind of sausage dish. The food looked great but didn't taste as good as I was expecting. It tasted good, but not as good as it looked. Alena wasn't a fan of her cheese pizza (not enough pizza sauce on it) but Christian DEVOURED his. The pizza was huge for a kid with 8 pieces and he managed to get 4 1/2 slices in him! It didn't occur to me to take pictures while there until we left (and I even had the camera in my purse!).
After leaving we dropped the kids off at the babysitter's so Gabe and I could go out on our own to celebrate. I chose to go to the gun range and the movies. Weird combo, right?
Gabe does a lot of traveling for work and I have a really hard time sleeping and feeling completely safe while he's gone. I bought pepper spray but that only helped a bit. So we bought some guns for home protection and for some peace of mind on my part. We spent a couple hours at the range getting completely comfortable and familiar with our guns.
The last time I shot a pistol
I wasn't so great at it. This time however, I was soooo much better. We had a brand new steel target and I was the first one to try it out. My first three shots were right on top of each other and the next two were close to it.
See for yourself...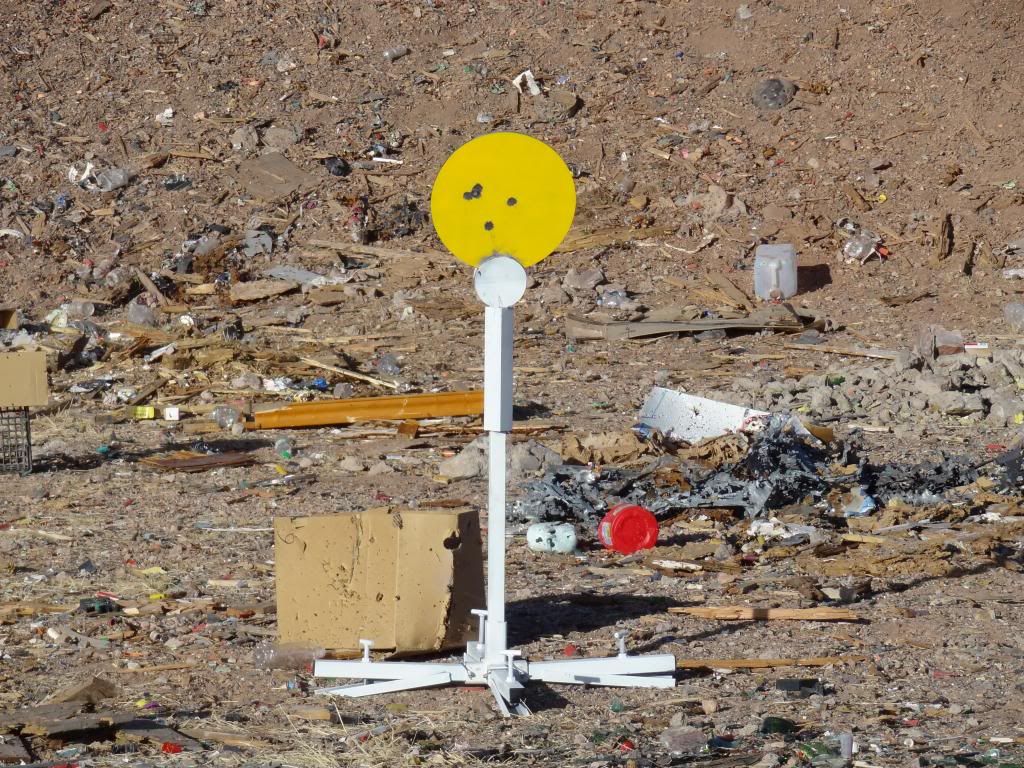 Pretty good, eh?
And here is after two hours...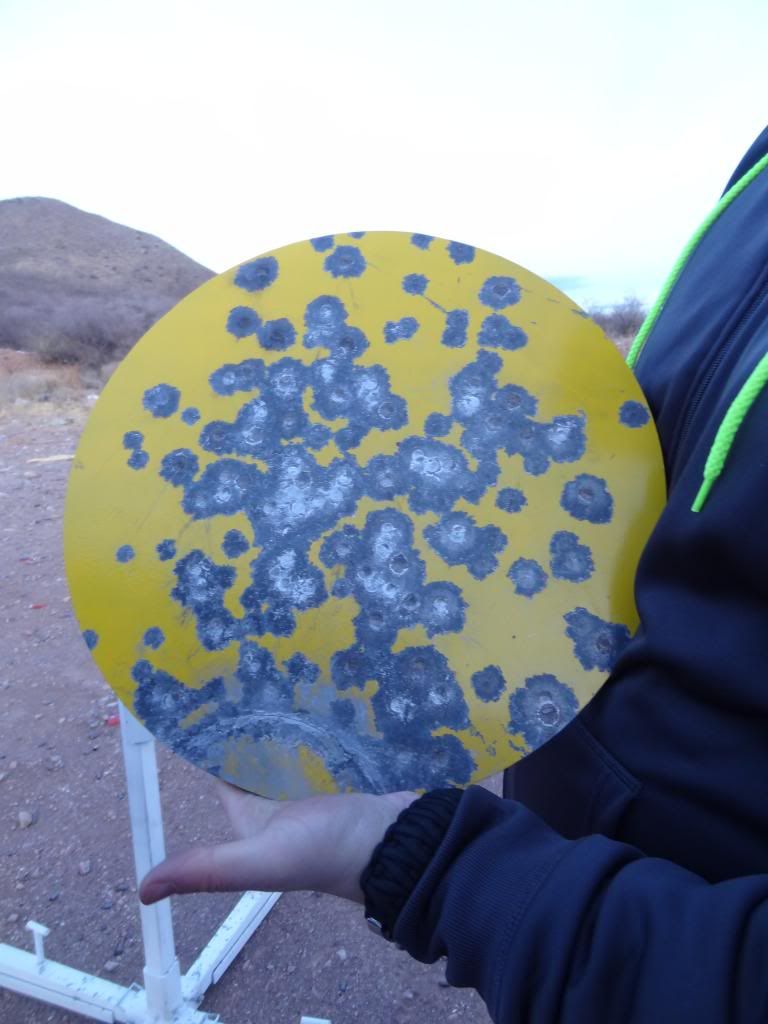 After the range, we drove to the movies and watched This is 40. Hilarious movie! All in all, it was a great birthday. Just wish it didn't bring me one year closer to 30! :( I dread that day but for now, I shall enjoy my age and embrace it. :)