I had spent the past 9+ months of pregnancy picturing and dreaming of how this home birth would go and none of them were ever remotely close to what actually happened!
Isn't that just how life is?
Throwing us curve balls the whole way. I have to start this birth story a whole week before he actually arrived because he fooled us THREE times before making up his mind.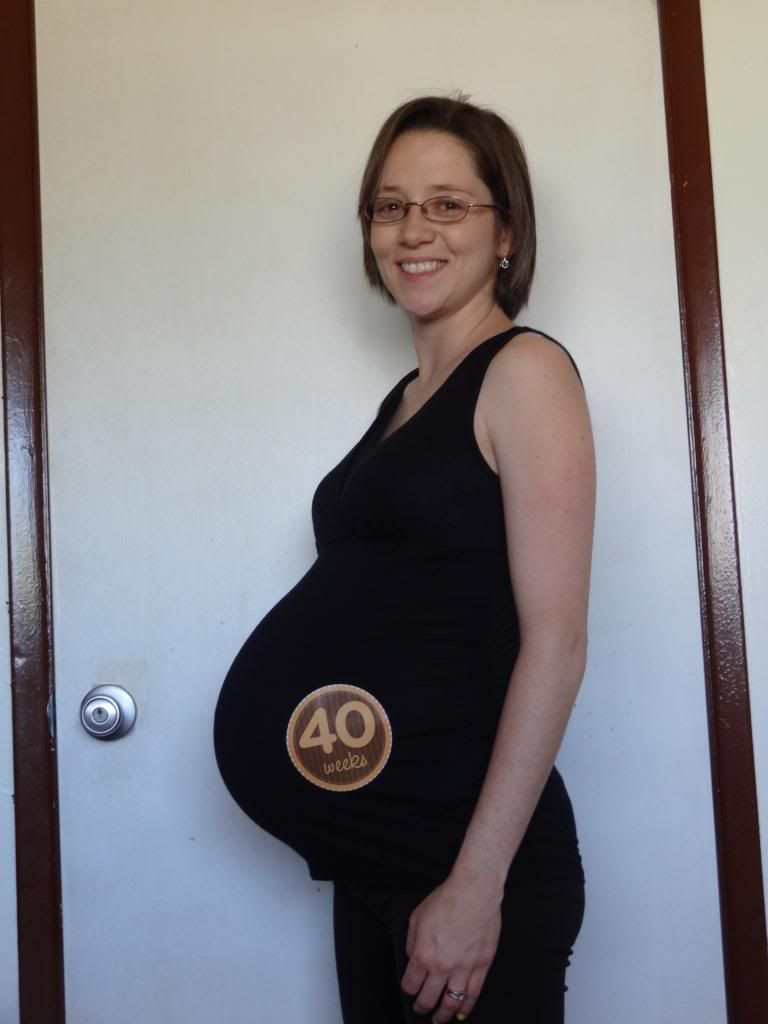 Tuesday, April 9th
- Gabe's mom had flown in the day before to come help out for after the baby came. She suggested that because this might be our last night without a baby, we should go out one last time. We took her up on her offer and left for the movies. GI Joe, yes please! While in the theater, I started having contractions every fifteen minutes. Afterwards, we thought we'd keep them coming by walking. Walmart was all that was open so we headed there and walked and walked.
I quickly become the talk of the cashiers and stockers as the "lady walking her baby out". It was like having our own personal cheerleaders. The contractions got as close as every 10 minutes and after walking for almost an hour and a half, I was beat and needed to stop. So we headed home and went to bed. I contracted on and off through the night.
I called the midwife in the morning and let her know what was happening. Her and her assistant thought I was in labor so they came over with all their gear. I told Gabe to go to work and I would call him when/if I needed him to come home. I was checked and Diane (my midwife) let me know that I was dilated to a four! It was around 9am at that time and I informed them that contractions had pretty much stopped and I hadn't had hardly any since 7am. Diane swept my membranes and we were all sure it would be happening sometime later that day. Diane and her assistant left and we were left waiting for something to happen. It never did. :(
Saturday, April 13th
- Fast forward a few days and the baby was still not here. We were getting antsy because Gabe's mom was supposed to be leaving the following Wednesday. She had come to help out with the kids and house after the baby and how was that supposed to happen if he wasn't here yet?! We decided to go out for dinner and headed to Texas Road House. Fresh rolls, yes please!
During dinner, I was having regular contractions about every 10 minutes and they were stronger than previous days. We were getting excited. We went home and Gabe's mom headed straight to the bathroom sick to her stomach. "Perfect timing for this baby to come", I thought. Again, I had contractions throughout the night and had to focus through some of them. But just as before, by 7-8am they died down and we were left waiting yet again.
Monday, April 15th
-
When is this baby going to come?!
That was what was going through everyone's mind. I was almost two weeks past my (cycle) due date and Gabe's mom was leaving in two days. I had an appointment with the midwife at noon and I was going to receive her special homeopathic "labor concoction" that works on 75% of her patients. Well, I was willing to try almost anything at that point because nothing else had worked and we had tried almost every natural method so far (sex, walking, squats, dancing (busted out our DDR!), nipple stimulation, evening primrose oil, sweeping the membranes, and more). Diane did a cervical check and this time I was at almost 6cm but STILL NOT IN LABOR! I took her concoction and she mentioned another method that was a little more invasive but almost always did the trick. It was a small shot of Pitocin in the arm that would give you contractions for a little bit and "jump starts" your labor. Basically, tricking my body into thinking it was in labor so by the time the shot wore off, your body takes over. Pitocin was not what I wanted but knowing that Diane could not legally let me have a home birth after 42 weeks (just 2 days from now), I agreed. The shot BURNED and felt like a giant bee sting. I started contracting almost right away so she sent me home to wait it out and call in an hour to report what was happening. We got home and surprise surprise, the contractions slowed and basically stopped again. So another day passes with no baby.
Tuesday, April 16th
- (also written about
here
) Down to our final day with my MIL there and our final two days of a home birth option, Diane came over to the house Tuesday morning to try the Pitocin shots again. I had contracted through the night again and told Gabe to stay home because I'm either in labor or it was going to be that day since Diane was coming. We took the first shot around 9am and again contracted right away and waited them out. An hour and half later, they had died down and we went for shot #2. Again, no success. Diane asked us if we wanted to go for shot #3 (we were all skeptical that it would actually work) and that she gives no more than three shots because it's never taken more than three to have a woman go in labor and if it doesn't happen by then, it wasn't meant to happen yet. I was checked and was a stretchy 6cm. So we reluctantly went for it. By now, I had been contracting on and off for over 24 hours and I was just plain worn out. Shot #3 didn't take and we all just felt defeated. I was upset that it had come down to me having to choose between Pitocin shots for a home birth or having to go to the hospital to give birth. Gabe was upset it didn't happen with his mom here (since she did come to help us for after the birth) and he had wasted a vacation day. Gabe's mom was upset for obvious reasons. Also, we had let Alena stay home from school because she wanted to be there for the birth.
Part 2 to follow...
That's where it gets crazy!