Last weekend we participated as vendors in our local Fun Fest/carnival. We were there as part of our new at home business with
Body by Vi
. It was a three day event and to say we were tired by the end would be a gross understatement. It was fun though as we took the last day off to do activities as a family. Most people were there for the free activities instead of walking through the vendor section anyway.
We first headed to the rides. Gabe and the kids had wristbands that allowed them to ride as many rides as they wanted. Noah and I just chilled out in the grass while we waited for them to finish.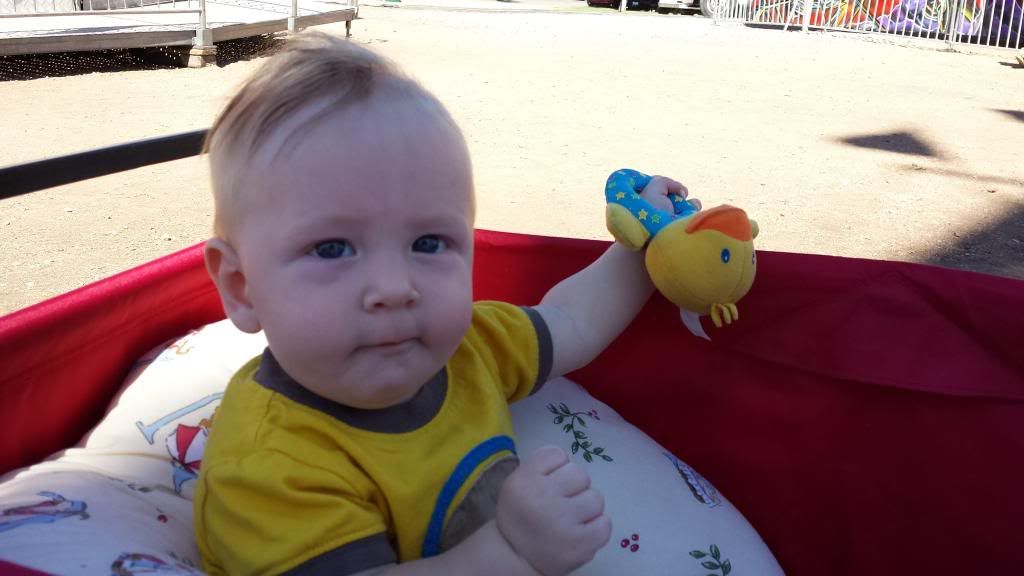 I am so in love with that face!
Wild man hair!
Not sure what I'm going for here... something serious?
I nursed Noah sans cover which is big for me. Not that I'm embarrassed about doing it, I just don't like flashing everyone when Noah gets distracted and has to have a look around before continuing on.
Every time we go to that carnival (our town does it twice a year) the kids are always begging us to let them do the rock climbing wall. This time we let them because it was free so if they only got two feet off the ground and chickened out, it wasn't a big loss. Christian was super excited to go and kept saying he was going to go all the way to the top and ring the buzzer they put up there. Alena became nervous and tried to tell us she wasn't doing it. We told her no, she has been asking to do it and she's going to get up there and at least try.
And you know what? They did awesome! We waited in line for a good 30 min watching probably 10 or so kids go and only two made it to the top and they looked to be about twice Alena and Christian's age and size. Christian got stuck about a third of the way up but would not give up. He made it past that trouble spot and just kept going and going...
all the way to the top!
Alena did the first half of it using just her arms and was one hand hold away from the top before falling. If the wall would not have jutted out, she would have easily made it to the top but she was
soooo
close.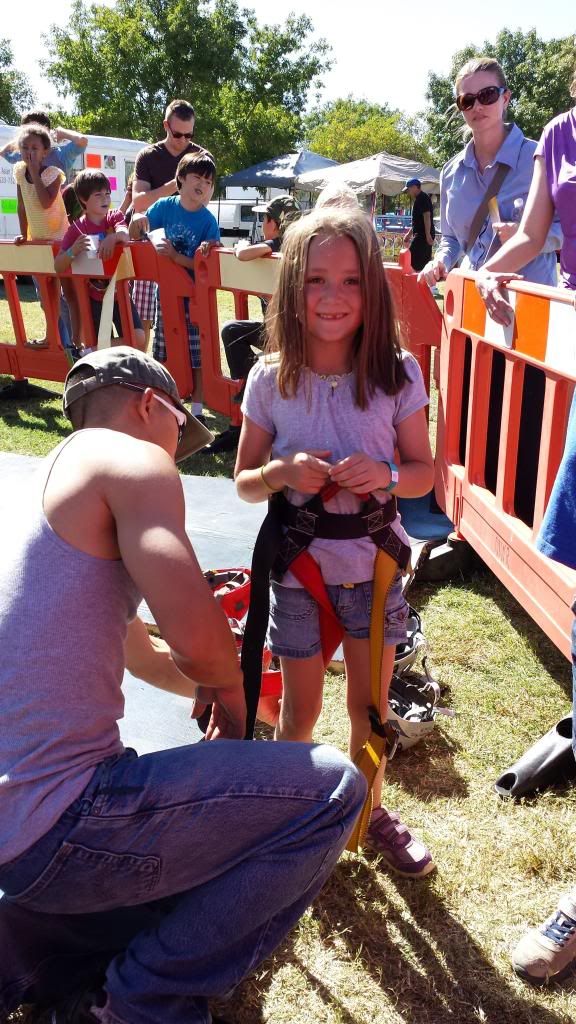 Getting strapped in.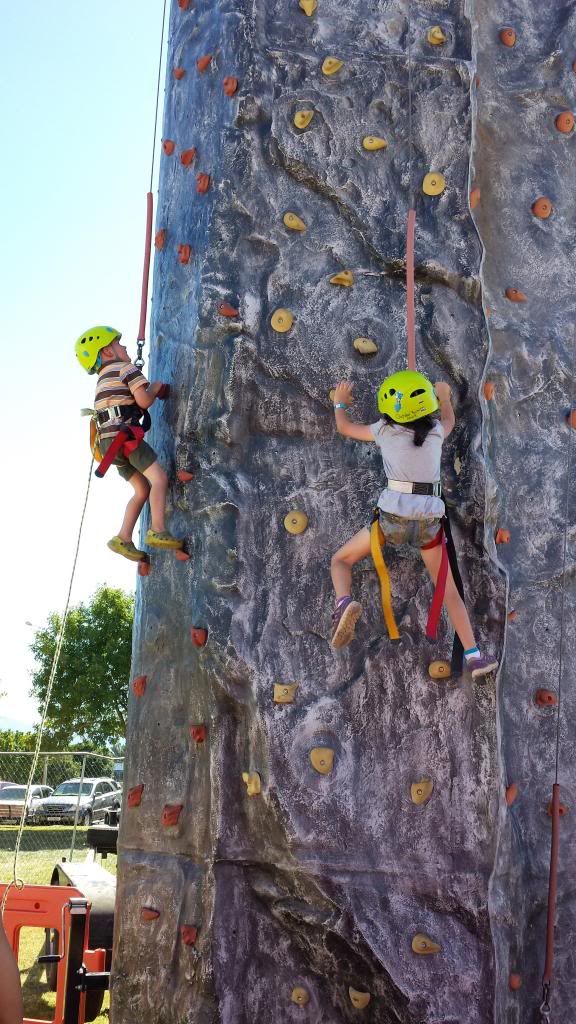 You can see her just using her arms here.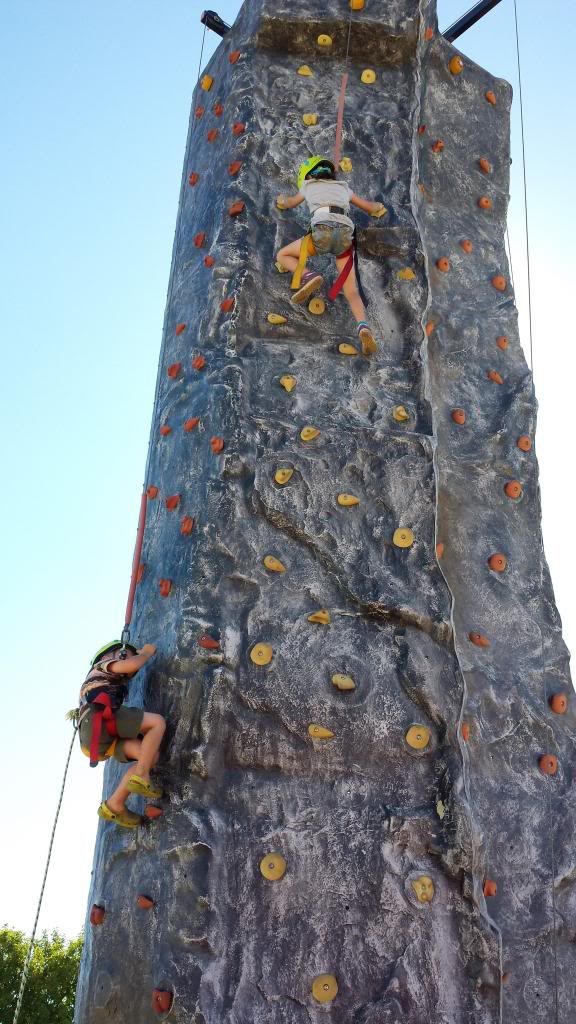 Christian getting stuck and Alena easily making her way up.
One hand hold away...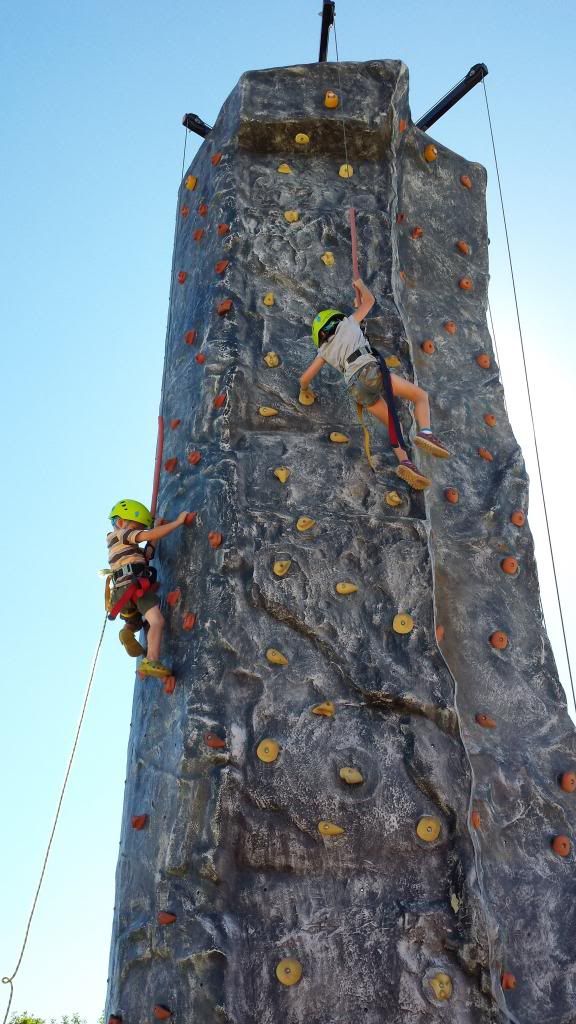 Alena slips and Christian continues on.
Ringing the buzzer at the top!
It was another good weekend. Christian told me Sunday was an awesome day and that was all I needed to hear. :)
How was your weekend?