So I know that summer is just beginning but the kids and I were in a baking mood the other day and these pumpkin cookies were calling my name! One hours and a few messes later, we had the most
AWESOMELY DELICIOUS
pumpkin cookies. Not only were they delicious, but I made them Gluten Free too!
PS - They are neighborhood kid tested and approved! The kids loved them so much that they were begging for more!
mmm!
Here we go...
Pumpkin Cookies
1C shortening (I didn't have any so I used butter)
1C sugar
1 egg
1C pumpkin
1tsp vanilla
2C flour (I used a gluten free flour)
1tsp cinnamon
1tsp baking soda
pinch of salt (pretty sure I skipped the salt)
I added a small amount of nutmeg and cloves even though the ingredients don't call for them.
Directions:
Cream shortening and add sugar and eggs; beat well. Add pumpkin and vanilla. Stir in dry ingredients. Bake at 375 degrees for 10 to 12 minutes. Let cool then add frosting. Makes 25-30 cookies. (
side note:
I thought they would flatten/smooth out while baking but they didn't. How you plop them on the baking sheet is how they'll bake. Hence, my lopsided looking cookies.)
Frosting
1Tbs butter
2Tbs milk
1/4C brown sugar
powdered sugar
vanilla to taste (I probably added 2Tbs)
Directions:
Melt together butter, milk, and brown sugar. (I microwaved for 15seconds at a time until brown sugar was dissolved.) Add in vanilla. Stir in powdered sugar until desired consistency is reached. (I felt like I was adding a TON of powdered sugar).
SOOO delicious! The cookies had just the right hint of pumpkin and the super sweet frosting balanced it out perfectly.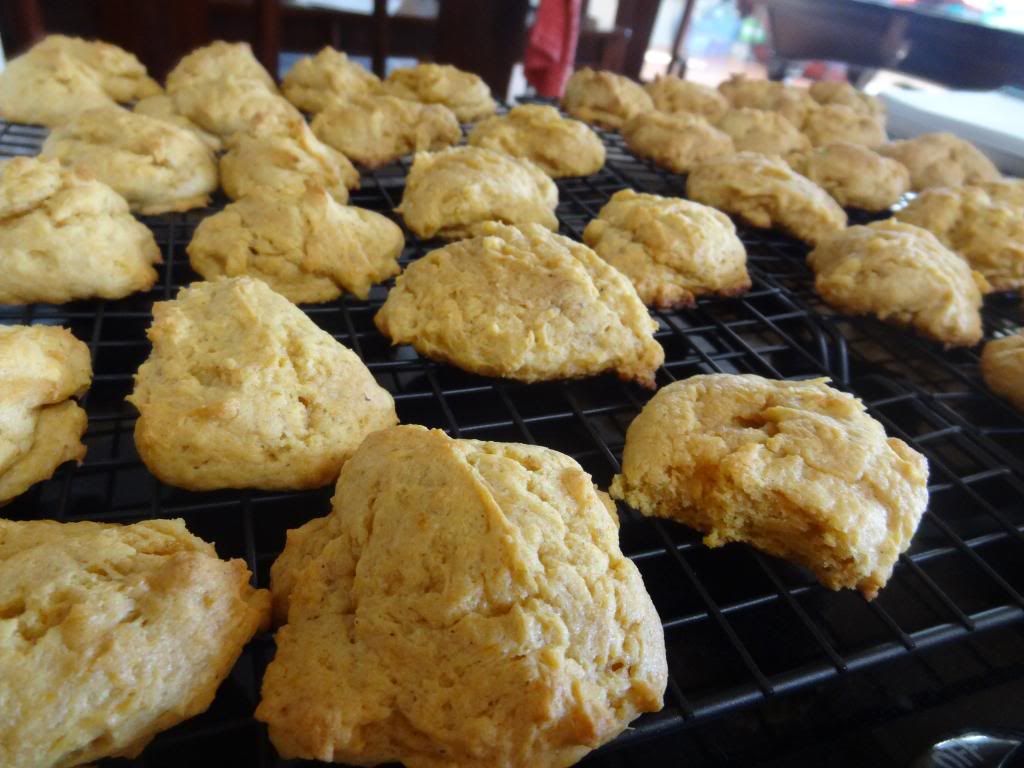 Why yes, that
is
a half eaten cookie sitting there. I just couldn't wait to take a taste! These cookies were great with or without the frosting. I'm not a huge fan of sweet sweet stuff so I left some unfrosted and ate those too.
And like I said, the family loved them and it even had the neighborhood kids coming back asking for more. These pumpkin cookies didn't last more than two days in this house. Gone, just like that.